Charcoal Konjac Sponge
Exfoliating konjac sponge
Makeup Remover / Cleansing
The Konjac sponge is made from an Asian plant that has long been used in Korea to cleanse the face and body. Our Charcoal Konjac Sponge helps to rid skin of impurities and gives your cleanse an extra boost of exfoliation.
Let the sponge soak up water for 3 minutes so that it is moist and soft. Lightly squeeze out the excess water and with a cleanser of your choice, massage gently over the face and body with circular motions. Rinse after use and leave to air dry.
Kojac natural fibers : Cleansing and exfoliating properties Bamboo charcoal : Purifying and mattifying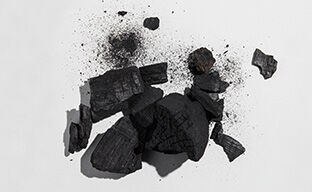 Charcoal
Traditionally known for its purifying qualities and absorption capability, plant-based charcoal has a cleansing and mattifying effect on skin.
Double Cleanse Routine
Good skin begins with thorough cleansing. First use Black Cleansing Oil to melt away all traces of make-up and impurities, then use Centella Cleansing Gel to nourish and thoroughly clean skin. Use a Konjac Sponge for an extra relaxing exfoliation.