Give your skin some TLC
No matter what we face, we can always take time out of our day to take care of ourselves and our skin.
Decompress and treat yourself to a relaxing moment and a face mask in order to revitalize, soothe, and intensely moisturize your skin. Whatever your skin is looking for, there is a face mask out there to soothe your skin!
Why are face masks important?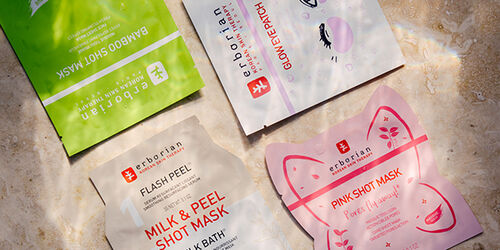 Face masks are a must-have in any skincare routine! They were made to protect, soothe, hydrate and give skin a more youthful appearance.
Face masks are also highly appreciated for their effective results in improving skin health. Packed with nutrients, vitamins and moisturizing agents, they help to restore the skin's natural balance and reduce signs of dehydration and fatigue. Face masks are one of your best skincare staples for glowing and revitalized skin!
Which mask is best for my skin type?
In order to choose the right face mask, the first thing you need to know is your skin type. Does your skin tend to be more sensitive, dry, oily, normal or combination? Whichever skin type you have, there is a mask to help give your skin what it needs!
Does your skin tend to have a shiny or greasy appearance? Chances are you have combination to oily skin, with a slight need for sebum regulation. A face mask, with green clay or charcoal for example, might help to absorb excess sebum and mattify your skin. When it comes to deeply cleaning your pores and improving complexion, fruit acids can help to gently exfoliate and refine skin texture.
Does your skin tend to feel tight or itchy? You most likely have sensitive to dry skin. In this case, a nourishing face mask, filled with hyaluronic acid, Vitamin E or other powerful moisturizing agents, would be the perfect match to soothe and deeply hydrate your face. Glycerin, Aloe Vera, avocado and shea butter are a few examples of effective ingredients.
If you don't have any specific skin needs, you can look for a face mask that fits your current skin needs!
Tips and tricks
There are many different types of face masks: peel-off masks, sheet masks, overnight masks, cream masks, and gel masks. All work to help make the most of the product's active ingredients and help nourish your skin.
Before using any mask, the most important thing to do is to thoroughly clean your skin. Not only does clean skin help to create a good base for the mask and help to open up your pores, if you take time to exfoliate, it can help the active ingredient of the mask better penetrate your skin so you can get the most out of your mask.
To avoid any allergic reaction always apply a small amount of the product to a small area before you use it all over your face. Additionally, you should always refer to the mask's instructions to know how long you should apply your mask for. If it starts to dry out your skin or you feel some sort of unwanted reaction such as itching, immediately take off your mask. Although some people may think that the longer you keep on your face mask, the more you absorb the benefits, wearing your face mask for too long might dry out and damage your skin.
Masks are an amazing skincare product to include in your beauty routine and are best used 3 to 4 times a month.
Erborian Face Masks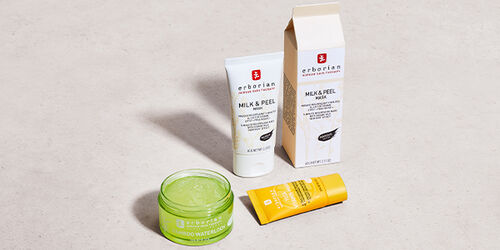 At Erborian, we have a wide range of face masks to fit your needs!
Looking to make your skin to look more luminous or radiant? Check out our Red Pepper Paste Mask or our overnight Yuza Vitamin-Mask.
Looking to hydrate your skin? Try our Bamboo Waterlock Gel Mask!
Discover a whole range of beauty face masks to give your skin the TLC it deserves.