Our skincare tips to feel confident and beautiful without makeup!
The bare skin trend has been growing in recent years, challenging us to strip away layers of makeup and focus on our skin's real beauty.
However, some of you may still think the no-makeup look is for model skin only… we take your point, but let's take a moment to that statement together and see how everyone can achieve glowing skin naturally.
You will see that nothing more than a few changes in your skincare routine and a beautiful smile are needed to get your bare skin confidence back! Ready to put your best face forward?
First step to beautiful bare skin: cleanse properly
Our environment plays a huge role in our skin's health. Among all the many external factors, air pollutants are important oxidative stressors our skin has to deal with, particularly for those living in cities: smoke, exhaust gas emissions, dust and chemicals weaken and absorb into the skin's barrier, which can trigger or worsen inflammation.
Makeup can also increase oxidative stress, participating in premature aging, uneven skin tone and dullness.
So, you see our point: only a good daily cleansing routine will free you from these everyday stressors! And what better way than a Korean style double cleansing, twice a day, to get rid of all of these impurities? The oil-based cleanser removes makeup, pollutants and excess sebum completely while the water-based cleansing erases any traces of dead skin cells and bacteria. Your pores are unclogged and ready to make the most of your skincare products.
If you want to cleanse your skin even more deeply, give yourself an at-home facial!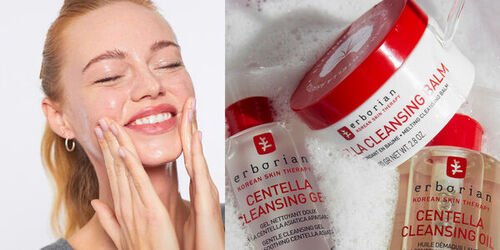 Boost your bare skin glow by exfoliating
Exfoliation is one of the best ways to boost your bare skin glow, both instantly and over time. By removing a layer of dead cells from the skin's surface, this process smooths the skin's appearance to leave it more radiant. Your face better reflects light immediately and looks younger, use after use.
Even though mechanical exfoliation can offer some results, the risk of using a scrub (involving apricot pits or walnut shells for example) is to worsen existing conditions by irritating and harming the skin, especially for those with sensitive skin.
That is why facial peels without particles are a better option for all skin types. They can involve various types of exfoliants like acids or enzymes, that peel the skin deeply but gently, revealing an even fresher and smoother skin tone. There are many exfoliation products: make sure to pick the ones that meet your specific skin needs.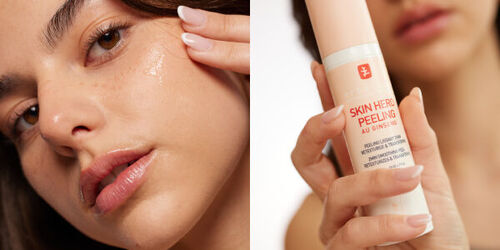 Our Skin Hero Peeling uses a super-blend of acids (AHA, BHA and PHA) that delivers real results in just 2 minutes! Tolerated by all skin types, it exfoliates the skin gently to retexturize it and leave it looking renewed.
If you would prefer a softer solution you could use more regularly, try an enzyme peel such as Milk & Peel Mask that focuses on dead skin cell removal only while nourishing the skin's surface.
Important note: when using a facial peel with acids, make sure the other skincare products you apply on your face don't contain any exfoliating acids. For example, if you are a Skin Hero lover, don't use it the day of and the day after your facial peel.
Moisturize and protect your bare skin
After cleansing and exfoliating, it's time to moisturize and protect your bare skin by applying products that repair or strengthen the moisture barrier. To reinforce this shield against external aggression (cold, wind, pollution, sun, bacteria, etc.), use hydrating ingredients such as hyaluronic acid, capable of binding over water, increasing upper dermis water content substantially.
Moreover, look for natural active ingredients that can protect your skin from environmental damage and restore the skin's natural hydration. Try our vitamin C Yuza range, which helps brighten and revive complexion, or our Bamboo range to give your skin an instantly supple and plump look.
Not sure about which product you should use? Here are some leads.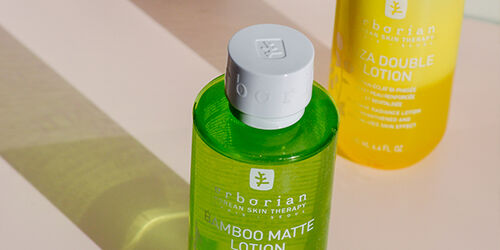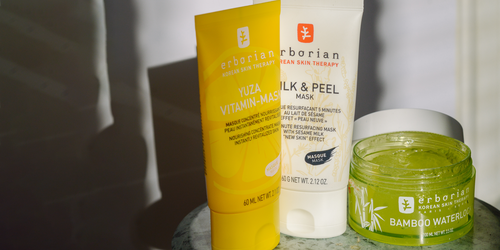 In order to prepare your skin to enhance the effects of the products applied afterwards, start with a toner or a lotion. When you are done with this shot of hydration, follow with your favourite face serum, which will deliver active molecules deep into the skin (put on still damp skin). Finally, smooth on your day or night cream to maintain hydration and form a seal that will help enhance the effects of the serum.
When applying your skincare products, take a few minutes to perform a face massage, which will help stimulate skin microcirculation and help the active components to absorb into skin's barrier.
Once a week, begin this routine with an extra step: apply a hydrating face mask, which is another powerful skincare ally for a glowing and revitalised bare skin in just minutes.
Important note: don't forget to put on some sunscreen to protect yourself from UV radiation and always choose cosmetic products labelled as hypoallergenic or non-comedogenic.
Use a bare skin perfector
For your bare skin to look younger and beautiful without wearing makeup you can add a final touch to your beauty ritual, using a skin perfector that combines instant and long-term results. These hybrid non-tinted products often offer immediate radiance-boosting or blurring effects while they refine the skin texture day after day.
Get a flawless finish with our Skin Hero that smooths and blurs the appearance of your bare skin in one touch and enhances the skin in just 7 days (and overtime) thanks to its enzymes. Loaded with Korean White Ginseng Complex, it also brightens the skin. An efficient skincare product to feel comfortable enough to go out without makeup!
Important note: we recommend applying Skin Hero before your SPF as it has active exfoliant ingredients. For the same reasons, don't use it the day and the day after you use a facial peel with exfoliating acids (such as our Skin Hero Peeling).
Never forget glowy bare skin starts on the inside
All these essential steps would be a little meaningless without taking care of our lifestyle, as the journey to healthy looking skin starts on the inside.
Indeed, the process for our skin to rest and repair is directly affected by our way of life: lack of sleep and exercise, unbalanced diet, times of stress, etc., lead to inflammatory states that show up on our skin.
That is why, to clear out blemishes, acne, fine lines, dullness and make your bare skin glow, you might also need to get more sleep, avoid fatty or sugar-rich food, eat antioxidant-rich food, and decrease stress by exercising, for example (or low effort exercises like meditating!).
Content you may like:
- How do you choose the right face mask?
- How do you avoid blackheads?
- Why are lotions and toners important?
- What is double cleansing?
- How do you get rid of maskne?