What are lotions and toners?
Did you know that at one point, toners were looked down upon by dermatologists for being too astringent and incredibly drying? They used to contain high concentration of alcohol to remove oil from the skin which was more detrimental to skin than beneficial. Long gone are the days when toners would dry and irritate our faces!
These days, most toners are more hydrating, alcohol-free and focus on more skin concerns than just treating acne and oily skin. In addition to being packed with unique specialty ingredients, our lotions/toners are designed to give your skin a boostof hydration and dramatically enhances the moisturizing benefits of the products applied afterwards. Over time you'll feel your skin healthier and stronger!
How should lotions and toners be used?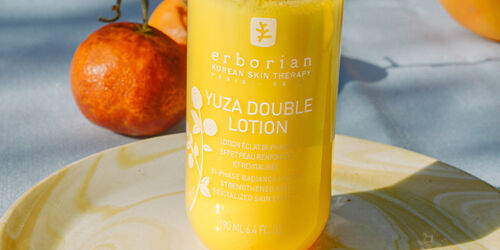 A lotion should be applied before all your other skincare products. Simply pour a few drops into the palm of your hand, then pat over the face with the fingertips. Apply your moisturizer within the next 30 seconds in order to enhance its benefits.
In the morning, a lotion will wake up your skin and remove excess sebum that has built up overnight. It allows your skin to wake up much more gently than it would with just soap-based cleansing.
In the evening, you can apply a lotion before your night cream to really boost its moisturizing benefits overnight. You can also use a lotion to make your own sheet mask. Take a non-saturated capsule mask and soak it with the lotion of your choice for a few minutes, then apply to the face. Choose your lotion according to your skin concerns, so you can give your skin exactly the ingredients it needs!
Which lotion or toner is right for me?
Originally, the main reason for using a lotion was to hydrate the skin – so lotions were created to address dry or tight-feeling skin. Now there are lotions that target all kinds of specific needs (signs of aging, lack of radiance, excess shine, etc.). It's up to you to choose your lotion according to the seasons and your skin's needs at a given time.
At Erborian, there are plenty of choices!
To smooth the skin and improve firmness try our Eau Ginseng
To help control excess sebum and mattify the skin use our Bamboo Matte Lotion
For its brightening and energizing properties, you'll love our Yuza Double Lotion