NEW
Yuza Super Serum - Vitamin C Face Serum
Vitamin C face serum to nourish and protect your skin
Meet our Vitamin C face serum:Yuza Super Serum, the latest in our best-selling skincare collection of yuzu super fruit radiance boosters. This vitamin-C enriched formula harnesses benefits of the traditionally favored yuzu fruit in a juice-like liquid formula, for maximum impact in a next-to nothing feel on the skin.
x Formulated with 80% Yuzu Fruit Extracts to maximize moisturizing and antioxidant benefits of the super fruit, skin feels stronger and appears more radiant with use.
x Additional benefits from Yuzu Aqueous Extracts (obtained by steam distillation of the fruit) and Ceramid C24 help to balance the skin and strengthen skin barrier function.
x An ultra-light liquid texture allows for maximum penetration of product into skin without leaving behind any oily film or residue.
x Apply to damp skin morning and night before creams or moisturizers.
First, cleanse your skin with an oil-based and a water-based cleanser. Next, add one pump of the Vitamin C serum in the palm of your hands or your fingertips and gently apply it to your face and neck. Penetration of the active ingredients is better on damp skin. Once the serum is fully absorbed into your skin, follow up by applying your favorite moisturizer.

You can use your Vitamin C face serum both morning and evening. For the first use, press the pump several times to activate it. As the texture is an ultra-light liquid, activate the pump near your hand. Due to the high proportion of natural origin ingredients, the color of the formula may change over time. This does not affect the effectiveness or quality of the product. Avoid eye contact.
"
KEY INGREDIENTS:
- Yuzu Fruit Extracts (Citrus Junos Fruit Extract): represents 80% of the formula; known for their moisturizing and antioxidant properties, contain ceramid C24, known to strengthen skin barrier function.
- Yuzu Aqueous Extracts (Citrus Junos Fruit Water): obtained through a process of seam distillation of the Yuzu fruit, they contain minerals necessary for the balance and hydration of the skin. Also contains a prebiotic to help maintain skin-ecosystem for a hydrated complexion.
- Vitamin C (Ascorbyl Glucoside): known for its antioxidant properties
- Inulin: a prebiotic which maintains skin balance.
CITRUS JUNOS FRUIT WATER - PROPANEDIOL- GLYCERIN -1,2-HEXANEDIOL - METHYL GLUCETH-20 - BUTYLENE GLYCOL- - INULIN - CITRUS JUNOS FRUIT EXTRACT - ASCORBYL GLUCOSIDE - AQUA/WATER - SODIUM CITRATE - OCTYLDODECETH-16 - HYDROXYETHYL CELLULOSE - CITRIC ACID - ETHYLHEXYLGLYCERIN - POLYSORBATE 60 -DISODIUM PHOSPHATE - SODIUM PHOSPHATE - PARFUM/FRAGRANCE - LIMONENE – LINALOOL"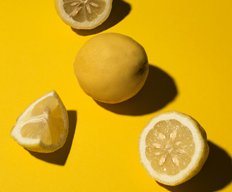 Yuzu
Yuzu is an Asian citrus fruit known for its high Vitamin C content. Our Yuzu active has properties that moisturize, antioxidize and protect skin.
Yuza Brightening Routine
Brighten the complexion with Yuza. After cleansing, use the Yuza Double Lotion to nourish skin, followed by the Yuza Super Serum to strengthen and nourish skin. Then use the Yuza Sorbet Day Cream to moisturize and prep skin for the day.