Our tips on how to reduce redness on the face quickly!
Are you struggling with red, sensitive skin? You are not alone! Many of us are dealing with some degree of facial redness, often more persistent and annoying than flushed skin experienced when embarrassed, excited or after an intense workout!
Generally a source of discomfort, it also can be painful sometimes, even causing confidence and self-esteem issues. Facial redness mainly occurs because of irritation, dryness, or skin conditions such as rosacea, seborrhea or acne, resulting from hormonal disorders, allergies, or exposure to environmental factors (air pollutants, sun, cold weather, cosmetics, diet, etc.). Some of these need specific treatments with medical attention. But don't worry, as with a good beauty routine, including gentle makeup skincare hybrid products, most of them can be covered up perfectly and improved over time.
Keep reading to find out "how to get rid of redness on face" and give your complexion a radiant glow, for good.
How to get rid of redness on face with skincare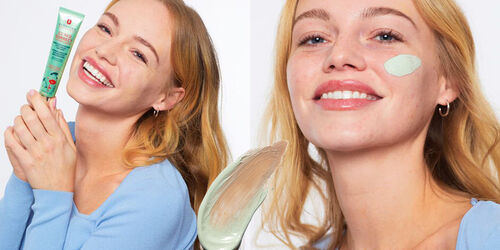 Whether it lasts a couple of days or it persists for months, redness on face always needs to be taken care of conscientiously. Before thinking of hiding it, always start with identifying the cause. At that stage, the help of a dermatologist might be required, particularly when it comes to treating skin conditions such as eczema, psoriasis, rosacea, allergies or severe acne.
Also, have a close look at the labels and ingredients of the cosmetics you use in order to make sure they are hypoallergenic, non-comedogenic and kind to the skin.
Then adapt your beauty routine:
Gently wash your face twice a day, but don't overwash it: no scrubbing and cleanser that is too harsh for your skin. Try double cleansing, one of Korean women's secrets for perfect skin. Much needed to remove your makeup at the end of the day!
Now that your skin is prepared and more receptive, apply a moisturiser to reduce feeling of irritation and strengthen the skin's barrier function.
Need to soothe and hydrate your face even more? Before putting on your lotion and cream, give your skin an extra burst of freshness with a hydrating or nourishing face mask.
Then, it's makeup time. :)
Important note: make sure the products you use contain SPF. If not, always put on some sunscreen before you start layering your makeup.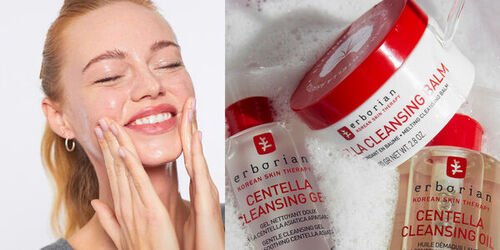 How to get rid of redness on face with makeup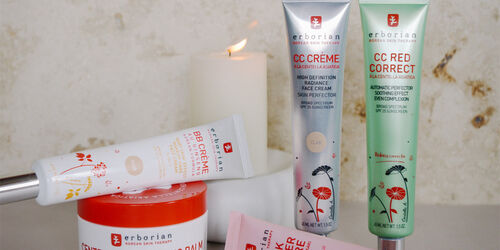 Not only will a good makeup routine help you deal with skin redness in no time, but using the right products could also help you reduce skin reddening day after day. That's the magic of hybrid products: part makeup, part skincare, they unify complexion in one gesture, while healing the skin over time.
How to get rid of redness on face with makeup: step one
First of all, use a light layer of a colour corrector with a green undertone: as green is the opposite of red on the colour wheel, these colours cancel each other out.
Packed with green pigments, CC Red Correct adapts perfectly to your skin-tone to reduce the appearance of facial redness instantly. Enriched with Centella Asiatica, this "High Definition" illuminator also helps soothe your skin and refine the appearance of its texture.
How to get rid of redness on face with makeup: step two
In order to even out skin tone to perfection, a tinted cream that matches your complexion is often needed. Apply it on top and blend it out with your finger tips. Try our iconic CC Cream, available in three shades (clair, doré, carmel), to reveal a smoother complexion with a 100% natural finish. Also enriched with Centella Asiatica, it leaves skin luminous while reducing the appearance of blemishes gradually.
How to get rid of redness on face with makeup: step three
If you are struggling with acne or red spots, you might want some extra coverage. In this case, apply a layer of foundation or BB cream that also matches your skin exactly. Dab it and blend it out with a feather light touch to get a perfect, flawless look.
You are all set! If you still can't find relief from redness, consult your doctor or dermatologist.
SHOP ALL PRODUCTS MENTIONED