Everything you need to know about the benefits of vitamin C for skin health
Vitamin C is one of the most talked about skin care ingredients! Many studies have shown that this potent antioxidant protects skin from environmental factors (such as sun or air pollution) or from internal sources resulting from a person's metabolism (hormones, diet, etc.).
In this way, vitamin C might help slow early signs of skin aging and improve the skin's overall appearance. As a matter of fact, thanks to its many properties, this powerful ingredient hydrates skin for a more healthy-looking complexion. If you are wondering "What does vitamin C do for your skin?" read ahead, but be aware your beauty routine is about to change.
What does vitamin C do for your skin?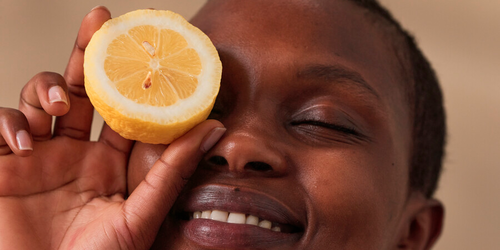 Sun damage protection
Vitamin C may work as a sun-damage protectant as it helps reduce the harmful ultraviolet sun rays' effects on the skin, but make no mistake, vitamin C is not a substitute for SPF. Skin barrier's integrity is maintained and protection provided by the sunscreen is enhanced.
Acne and dark spot improvement
Vitamin C is a dermatologist-recommended ingredient to take care of acne-prone skin (in case of severe acne, always ask your dermatologist before adding vitamin C to your skin care routine).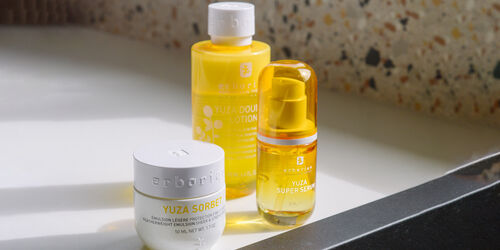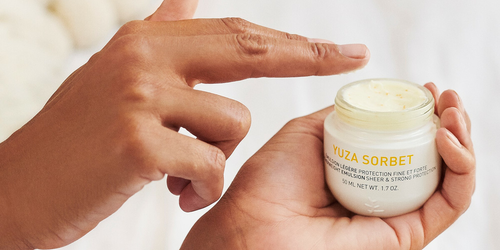 Don't forget your vitamin C in food!
Vitamin C in food is very important for younger and healthier-looking skin as well, as it will work from the inside and take care of all body tissues. A diet rich in vegetables and fruits (which are the best sources of vitamin C) is generally enough to get the recommended daily amount of this nutrient.
You + Vitamin C
How and when to use vitamin C in skincare routine
Before considering applying any vitamin C skincare product, always start your beauty routine with a clean face. Then you are ready to deliver a high dose of vitamin C to your skin: time to put on some vitamin C serum (apply on damp skin), such as Yuza Super Serum. This kind of light highly concentrated formulation eases the penetration of the active ingredients to protect and deeply nourish your skin.
To make the most of it and ensure the product works longer, layer up your usual moisturizer or boost the effect of your serum with a vitamin C moisturizer. To give your skin this extra shot of vitamin C, try Yuza Sorbet Day Cream and Yuza Sorbet Night Cream!
For the eye area, always pick a vitamin C product specifically designed for delicate skin, such as Yuza Sorbet Eye. Soon, signs of fatigue and dryness will no longer be a concern. :)
Learn more about our Vitamin C skincare collection here.
Topical vitamin C is suitable for every skin type, but always consider trying your vitamin C skincare product on a test spot in order to make sure you are not allergic to any of its ingredients.
You've caught on: vitamin C is definitely worth the hype. :)